Restylane vs. Juvederm – A Big Comparison
or_seo
Contemporary aesthetic medicine offers a wide range of dermal fillers designed to rejuvenate and enhance the skin. Such brands as Teosyal, Sculptra, Radiesse, Ellanse, Desirial, and many more are beloved by healthcare providers and their patients worldwide.
Below, you will find a big comparison of two fillers that have gained extreme popularity these days, namely Restylane and Juvederm. Let us define their similarities and differences in order to figure out which one will fit your needs best!
Please Note:
If you are looking for an advantageous website to buy dermal fillers online, rely on OgoMed. This way, you will be able to benefit from a great selection of brand-name products for reasonable prices.
General Information on Restylane and Juvederm
The below-mentioned text features general information on Restylane and Juvederm. So, how about taking a closer look at both brands right away?
Restylane
Restylane is a brand of dermal fillers manufactured in Switzerland by Q-Med (a division of a global pharmaceutical corporation of Galderma). It is strongly trusted by healthcare providers and their patients, mainly because of the high safety, quality, and effectiveness of its products.
Among the numerous benefits of the Restylane brand are:
Profound experience in the sphere of aesthetic medicine;
Employment of innovative technologies in the manufacturing process;
Optimal compatibility with all skin types;
And so on.
Please Note:
You might beneficially buy Restylane online on OgoMed. Check out the website's assortment to order the needed products at the most advantageous terms!
Juvederm
Juvederm is a trademark that manufactures premium dermal fillers characterized by qualitative composition for the greatest result. It belongs to a French pharmaceutical company of Allergan Aesthetics (which has recently become a part of AbbVie).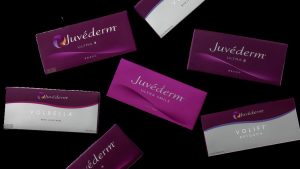 A great number of healthcare providers and their patients all over the world love the Juvederm brand because of the following advantages:
Years of experience behind its shoulders
Usage of advanced technologies while producing cosmetic injectables;
Full biodegradability regardless of the skin type;
And so on.
Please Note:
To take advantage of the most reasonable prices and reliable delivery options, order Juvederm online on Ogomed.
Similarities Between Restylane and Juvederm
Juvederm and Restylane are brands of dermal fillers that share a great number of similarities. So, let us check them out right now!
Composition
Both Juvederm and Restylane produce hyaluronic acid fillers. Therefore, they have a pretty similar composition, which is primarily based on:
Hyaluronic acid. It is a naturally-occurring substance that might be found in human joints, eyes, and skin tissues. While having strong hydrating properties, hyaluronic acid effectively moisturizes skin cells and, therefore, prolongs their youth;
Lidocaine hydrochloride. It is a prefilled anesthetic that has the power to temporarily numb the area of dermal filler injection. Lidocaine hydrochloride improves the level of a patient's comfort during the procedure by minimizing painful feelings.
Please Note:
Not all Juvederm and Restylane dermal fillers contain prefilled lidocaine in their composition. A healthcare provider might also apply a topical anesthetic to the injection site in order to ensure a patient with the highest possible level of comfort during the procedure.
You can also read our Best Fillers for Lips article. It will help you understand which filler is right for you.
Product Range
While comparing dermal fillers manufactured under the Restylane and Juvederm trademarks, it is essential to mention that their product lines contain several solutions, namely:
Restylane product range includes Restylane Contour, Restylane Defyne, Restylane Kysse, Restylane Lyft, Restylane Refyne, Restylane Silk, Restylane Volyme, and other dermal fillers;
Juvederm product range, in its turn, includes such dermal fillers as Juvederm Ultra XC, Juvederm Ultra Plus XC, Juvederm Volbella , Juvederm Vollure XC, Juvederm Voluma, Juvederm Volux, and so on.
In other words, the product ranges of both brands are quite similar. They both include several different solutions for various aesthetic purposes.
Indications
Juvederm and Restylane are indicated for aging skin that has lost its elasticity, volume, and smoothness. Their primary aim is to create a more youthful appearance of a patient's skin, as well as make it more attractive. Namely, dermal fillers of both brands are frequently used to:
Treat wrinkles, folds, and fine lines of different sizes (for instance, upper vertical lip lines, smile lines, perioral lines, nasolabial folds, crow's feet, and so on);
Add more volume to the sunken areas of a patient face (for example, restore volume in the cheek area or take care of under-eye hollows);
Contour the facial oval of a patient (as well as improve the appearance of facial features, such as jawline);
Create subtle lip augmentation;
And so on.
So, the indications of Restylane and Juvederm injections are quite similar. They both provide a patient with profound facial rejuvenation and enhancement.
Please Note:
Both Juvéderm and Restylane are indicated to take care of static wrinkles. Thus, a patient might consider other treatment options (for instance, Botox) if their primary aim is to take care of dynamic wrinkles.
Contraindications
Juvederm and Restylane injections have practically identical contraindications. They should not be administered under one of the following circumstances:
If a patient has allergic reactions to any component of a dermal filler (especially hyaluronic acid since it is the main active ingredient of Juvederm and Restylane);
If a patient experiences an ongoing skin irritation around the treatment area;
If a patient has serious health problems (for example, bleeding disorders);
If a patient is pregnant or breastfeeding;
And so on.
The presence of the above-mentioned contraindications should be excluded before the dermal filler procedure. This way, the risk of unwanted complications will be substantially minimized.
Side Effects
Just like their contraindications, the side effects of Juvederm and Restylane are also quite similar. Namely, a patient might experience mild to severe swelling, itching, or redness around the injection site after the administration of these hyaluronic acid fillers.
In most cases, these side effects have a temporary character. They usually disappear on their own within several days after the treatment and do not require any medical help. However, a patient should contact a healthcare provider in case of any unpleasant symptoms after the treatment.
Please Note:
One essential thing to mention in the Restylane filler vs. Juvederm filler comparison is that Restylane is more likely to leave bumps after reducing fine lines and wrinkles. This is due to the fact that it has a denser consistency.
Procedure
Both Juvéderm and Restylane are injected in a minimally invasive way. The procedure is usually done within half an hour and does not require any recovery time. Thus, a patient is expected to return to their usual lifestyle shortly after taking care of nasolabial folds, lip lines, and other skin creases.
Moreover, both fillers should be administered exclusively by a certified healthcare provider (for example, a cosmetic surgeon, dermatologist, or any other medical specialist with a valid medical license). These products are not intended for personal use.
Result
Similar to Juvederm, Restylane provides a patient with instantly visible but nevertheless natural-looking results. Both fillers have the power to retain moisture in a patient's skin for the time period from six months to two years.
Moreover, multiple injections of Juvederm and Restylane might substantially prolong the above-mentioned duration of the effect. As well, correctly chosen skin care might help a patient to enjoy the result of dermal filler injections for a longer time period.
Differences Between Restylane and Juvederm
Despite the above-mentioned similarities, Restylane and Juvederm are not identical. Below, you will find the list of key differences between them.
Price
When speaking about Restylane vs. Juvederm cost, it is necessary to mention that the latter dermal filler usually has a slightly higher price tag. On average, a single injection of a Restylane filler costs around $300, while a single injection of a Juvederm filler has a price of around $400.
At the same time, the above-mentioned prices strongly depend on the individual peculiarities of each patient (such as their current skin condition and desired result), the peculiarities of a product that is going to be injected (for instance, its volume), and the qualification of a healthcare provider who is going to perform the injection (including their geographical location).
Consistency
Probably the main difference between Restylane and Juvederm lies in their consistency. Namely, Restylane is a granular gel with a dense structure. While Juvederm, in its turn, is an exceptionally smooth gel with a light structure.
At the same time, it is impossible to say what consistency is better. While some patients will receive the best possible results with the help of Restylane, others will benefit from having Juvederm injected beneath their skin.
A Bottom Line
All in all, both Juvederm and Restylane are strongly advantageous dermal fillers based on hyaluronic acid. So, consult with your healthcare provider to select the one that will fit your needs best! Prolong your attractive and youthful appearance effectively!
P.S.
Please remember that Juvederm and Restylane belong to products intended for professional use. Thus, make sure to provide your medical license when purchasing them online.