Juvederm vs. Belotero: A Big Comparison
Belotero and Juvederm fillers have gained extreme popularity worldwide. They are strongly beloved by both healthcare providers and their patients.
The below-mentioned information compares and contrasts the two brands. Check it out attentively to learn which dermal filler would fit you better!
WORTH KNOWING:
You might advantageously order Juvederm, Belotero, and a big selection of other brand-name dermal fillers on Ogomed. This way, you will be able to benefit from reasonable prices and reliable delivery.
#1. Manufacturers
Belotero fillers are manufactured by Merz Aesthetics. While Juvederm fillers, in their turn, are produced by Allergan Aesthetics. Both manufacturers might be defined as global pharmaceutical corporations with profound experience in the sphere of aesthetic medicine.
WORTH KNOWING:
Apart from Belotero, Merz Aesthetics also produces Cellfina, Radiesse, Xeomin, and other products. While Allergan Aesthetics, in its turn, manufactures not only Juvederm but also Botox, CoolSculpting, Kybella, and so on.
So What?
Despite the fact that Belotero and Juvederm are produced by different pharmaceutical corporations, both of them are equally strong players in the field of aesthetic medicine.
#2. Compositions
The composition of Juvederm and Belotero fillers is based on hyaluronic acid (HA). More precisely, both brands use pure, biocompatible, and cross-linked hyaluronic acid of synthetic origin. It functions as a solid substitution for the naturally-occurring hyaluronic acid that decreases as a patient gets older.
WORTH KNOWING:
Naturally-occurring hyaluronic acid has strong moisturizing properties. It might be found in human skin, eyes, and joints. The main function of hyaluronic acid is to hydrate the tissues (and, therefore, help them stay young) by attracting moisture to them.
Moreover, both Juvederm and Belotero frequently add lidocaine hydrochloride to their composition. The usage of this topical anesthetic helps to temporarily numb the treatment area in order to reduce the feeling of pain or discomfort a patient might feel during the injection process.
Curious about the longevity of Dysport injections? Look no further! OgoMed offers a comprehensive guide on "How Long Does Dysport Last?" Discover the factors that affect the duration of Dysport's effects, including metabolism, dosage, and individual response. Our expert article provides valuable insights into the average duration of results, touch-up sessions, and tips to maximize the longevity of your Dysport treatment. Whether you're considering Dysport for wrinkle reduction or facial rejuvenation, our in-depth analysis will help you understand its longevity and make informed decisions. Read now and unlock the secrets to long-lasting, youthful skin!
WORTH KNOWING:
Belotero and Juvederm brands produce their dermal fillers in several variations. Namely, you might come across a certain Belotero filler or a certain Juvederm filler with prefilled lidocaine in its composition or without it.
Probably the only difference between the composition of Belotero and Juvederm is that Belotero is a hyaluronic-acid-based product with a lower density (if compared to Juvederm).
WORTH KNOWING:
Due to the fact that Belotero fillers have a lower density than Juvederm fillers, they have to be injected not that deep if compared to the latter ones.
So What?
The compositions of Belotero and Juvederm fillers are very similar. Both brands combine hyaluronic acid and lidocaine hydrochloride while creating their cosmetic filler solutions.
#3. Product Lines
When comparing the product lines of Belotero vs. Juvederm fillers, it is essential to mention that both brands offer a variety of solutions with different formulations, indications, and durations of action. For instance, here is the list of the main products in the Belotero range:
Belotero Balance. It is probably the most universal dermal filler in the Belotero family. Belotero Balance might be used to treat mild to severe lines all over the facial oval;
Belotero Intense. Due to its strong concentration of hyaluronic acid, Belotero Intense is an intense product that effectively addresses severe wrinkles;
Belotero Lips. This product stands out among other Belotero fillers. The main reason for it is that it specifically targets tender lip tissues and appears in two versions, namely Belotero Lips Contour and Belotero Lips Shape (they might be used in a combination for profound lip enhancement);
Belotero Soft. While being a very soft product, Belotero Soft is mainly used to treat superficial layers of the skin and reduce the appearance of very fine lines;
Belotero Volume. It is a dermal filler for facial contouring. While effectively addressing age-related skin volume loss, it is used to tighten the sagging tissues and make them more elastic;
And so on.
WORTH KNOWING:
You might conveniently order Belotero fillers on Ogomed. Simply create your personal account, upload your medical license, and add the needed products to your shopping cart.
While the Juvederm range of dermal fillers, in its turn, includes the following products:
Juvederm Ultra. It is the Juvederm treatment with a wide range of aesthetic indications. Healthcare providers use it to treat both superficial lines and deeper wrinkles around the facial oval;
Juvederm Vollure XC. While being a hyaluronic acid-based product of middle intensity, It targets both superficial and deeper layers of the skin in order to activate collagen production and reduce moderate lines around them;
Juvederm Voluma XC. Among all other Juvederm fillers, Juvederm Voluma XC is the one that would probably be the most optimal in regard to chin and cheekbone enhancement;
Juvederm Volbella XC. This product is specifically created for lip augmentation. As well, it turns out to be effective when it comes to the reduction of finer lines around the perioral area of the face;
And so on.
WORTH KNOWING:
Only certified healthcare providers are eligible to buy Juvederm fillers and other cosmetic injectables on Ogomed. The main reason for it is that they belong to products intended for professional use.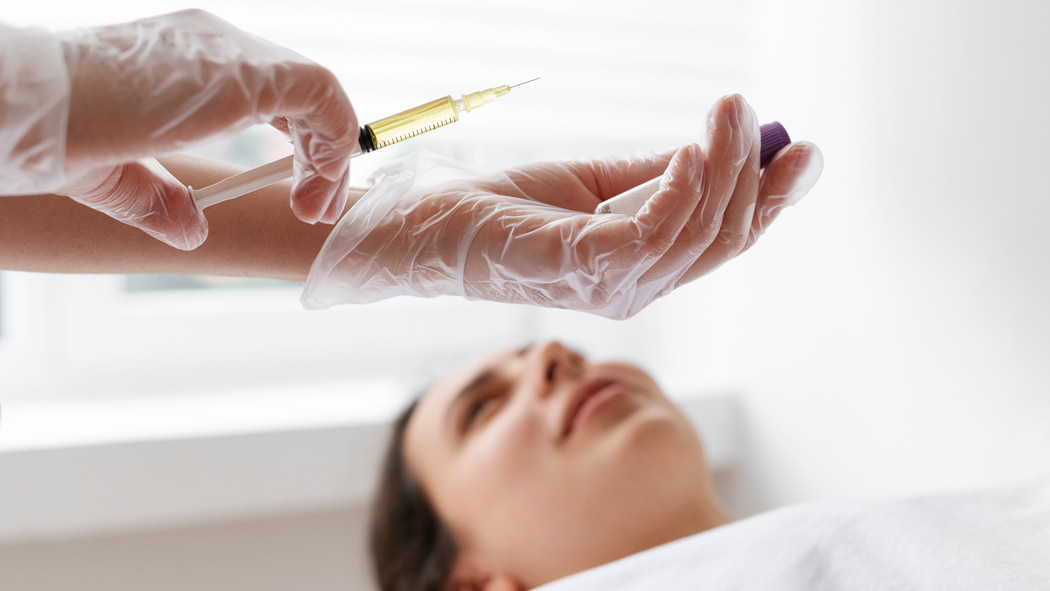 So What?
Both Belotero fillers and Juvederm fillers have broad product lines. They offer a wide selection of products with varying consistencies of hyaluronic acid for different aesthetic indications.
#4. Indications
The indications of Belotero and Juvederm are quite similar. Under normal circumstances, they are used to:
Reduce fine lines and wrinkles (starting from mild creases and ending with deep folds around the facial oval);
Enhance lips by means of providing them with optimal volume and well-defined contour;
Restore the age-related skin volume loss (as we age, our skin starts to lose volume due to the gradually reducing level of collagen; luckily, it might be effectively restored by small injections of dermal fillers);
Tighten the sagging skin and make it more elastic;
Create an attractive skin glow;
And so on.
WORTH KNOWING:
By taking care of a wide range of aesthetic issues, Belotero and Juvederm fillers function as minimally invasive and highly effective solutions for overall facial rejuvenation and enhancement.
So What?
When comparing the indications of a Belotero filler vs. Juvederm filler, it is important to mention that they both are exceptionally effective when it comes to the reduction of wrinkles (from fine lines to deep folds), enhancement of lips, restoration of lost facial volume, and a great number of other aims.
#5. Contraindications
Neither Juvederm nor Belotero should be injected if a patient has any of the following contraindications:
An allergy to hyaluronic acid (please remember that any Juvederm and Belotero solution might be defined as a hyaluronic-acid-based gel-like substance);
Ongoing skin irritation around the targeted injection site;
A serious health problem (for instance, poor blood clotting or diabetes mellitus);
Pregnancy or breastfeeding;
And so on.
WORTH KNOWING:
Usually, a healthcare provider has to investigate the overall health condition of a patient to make sure that a patient does not have any contraindications to the injection of a dermal filler before the initial treatment.
So What?
Both Belotero and Juvederm treatments should not be used under several circumstances related to a patient's overall health condition.
#6. Side Effects
The side effects of Belotero and Juvederm are also similar. Namely, their administration might cause redness, itching, or swelling around the injection site. Luckily, these symptoms do not carry any serious risks and disappear a few days after the treatment without any medical help.
WORTH KNOWING:
Please make sure to contact your healthcare provider in case of any severe side effects or adverse reactions after the injection of Belotero or Juvederm.
After undergoing Botox injections, it's vital to follow proper post-treatment care to achieve the best possible results while minimizing potential complications. At OgoMed, we understand the importance of guiding our patients through their Botox journey. In this comprehensive guide What Not to Do After Botox Injections, discover the essential "what not to do" tips to maintain the effectiveness and longevity of your Botox treatment.
So What?
Juvederm and Belotero are safe dermal fillers that rarely lead to serious side effects. They do not tend to cause any unwanted complications if a patient does not have any contraindications to their administration.
#7. Results
When comparing Belotero vs. Juvederm, it is worth mentioning that both brands provide patients with instantly visible, natural-looking, and long-lasting results. Depending on the individual peculiarities of each patient, they might last from several months to a couple of years.
WORTH KNOWING:
On average, the results of Belotero (just like the results of Juvederm) last from six to twelve months. Moreover, they might be substantially prolonged by periodical touch-up injections.
So What?
No matter what brand you choose, Belotero or Juvederm, for your facial rejuvenation and enhancement, you might expect to get an instantly-visible, natural-looking, and long-lasting result.
Final Words
So, who is the winner in this Belotero vs. Juvederm comparison? Well, both brands are very similar, safe, and effective. Therefore, feel free to choose any of them, and enjoy your youthful and attractive appearance!