Everything You Need to Know About Botox for Migraines
Migraines – the feeling of excruciating pain, inability to concentrate on anything, discomfort you feel all the time. This problem affects more and more people nowadays due to numerous reasons: a necessity to spend a lot of time with gadgets, climate and weather changes, overall poor health conditions, etc. If not treated on time, people may even experience chronic migraine headaches that may affect one's quality of life significantly. But is there a way to cure it?
Gladly, there is! For the last few decades, specialists have been using Botox for migraine more and more. Because of its muscle-relaxant abilities, a botulinum toxin is an excellent option for people in need to cure this annoying condition. But how does it work? Is it effective? Can Botox injections for migraines be considered safe? Everything, and even more, will be mentioned in this article.
Let's Discuss: What Is a Migraine?
Many people often confuse regular headaches with migraine pain. While the first one is not durable and should be gone within a few hours maximum, the second type may affect an individual for up to 3-4 days. Pulsing pain is typically the most severe in the forehead area and may vary from mild to extreme intensity. Other migraine symptoms may also include nausea, neck pain, weakness, and increased sensitivity to light and sound.
According to studies, the main reason for migraine development is increased brain nerves cells (neurons) activity. It is still unknown how this issue starts, but many specialists claim hereditary factor has a pretty significant role here because it's partially related to the brain structure of a person. Of course, we are talking about the increased excitability of neurons.
Thankfully, there is a solution to this problem now. More and more specialists choose to order Botox and use its incredible abilities to block nerve endings and stop unwanted spasms that are usually the reason for continuous pain. But how exactly can this product be helpful?
How Does Botox for Migraines Work?
Even though Botox is widely used in both medical and aesthetic spheres (so the purposes are different), its working principle and final goal remain the same. After Botox shots, the molecules of botulinum toxin get to the nerve endings of the muscle and bind to the proteins on its ending. In this way, the signal from the brain cannot be received, and the nerves become insensitive, unable to puls or contract (and, as follows, to accept pain signals). Just like that, people can forget about migraine for some time and enjoy their lives without the challenge of constant headaches.
Looking to learn about the longevity of Botox and how long it lasts? OgoMed's informative guide How Long Does Botox Last breaks down the factors that impact the longevity of Botox and provides insight into how often you may need treatments. Learn about the typical duration of Botox results, as well as tips on how to maximize the lifespan of your treatment. Read our article now and discover everything you need to know about the lifespan of Botox!
Looking to transform your look with Restylane? Look no further than Ogomed. Our new artucle Transform Your Look with Restylane: Before and After, helping you see the incredible results that are possible. Our experienced and highly trained team is here to help you achieve your beauty goals, using the latest techniques and technologies to ensure you get the results you want. So why wait? Visit Ogomed today and start your journey to a more beautiful you with Restylane.
How Long Will the Effect Last?
Injection of Botox work slower than traditional painkillers we are all used to. Overall, it takes approximately 14 days to freeze the nerve endings completely, and in two months since the first injection, the product reaches its maximum effectiveness. After that, new endings are grown, so the ability to receive signals from the brain gradually comes back.
As with all injectables like botulinum toxins, the effect here is temporal and fades away with time. On average, 4 to 6 months is the maximum durability (it varies from person to person). Specialists explain this phenomenon by the unique possibility of the body renewing nerve endings. That's why a specialist should calculate the dosage and the frequency of the product administration for one's individual needs to prevent migraine attacks.
More About the Treatment
In order to understand the procedure better, we would like to discuss more details of Botox for migraine treatments. In this way, it will be easier to decide whether this option is suitable for an individual and talk with a doctor about all the needs of an individual.
Botox for Migraines Cost
The price for Botox to treat chronic migraine depends mainly on the number of solution units needed to reach the desired effect. It ranges from $300 to $600, but it is better to talk with a specialist to know the exact number. Some clinics accept insurance, so once again, we highly recommend discussing all the details in advance.
Is the Treatment Effective?
A Botox migraine treatment is effective only for patients who experience this unfortunate condition 15 (headache) days per month. If the numbers are higher, this option may not be as effective as one wants. More than one procedure may be needed for some individuals to reach the desired result.
Botox for Migraines Injection Sites
In order for the procedure to be successful, some special rules should be followed during the product administration. Just like that, the injection area and injection technique matter a lot. So, what are the most suitable spots to use Botox on?
Forehead;
Back of the head;
Temples;
Neck;
Upper back.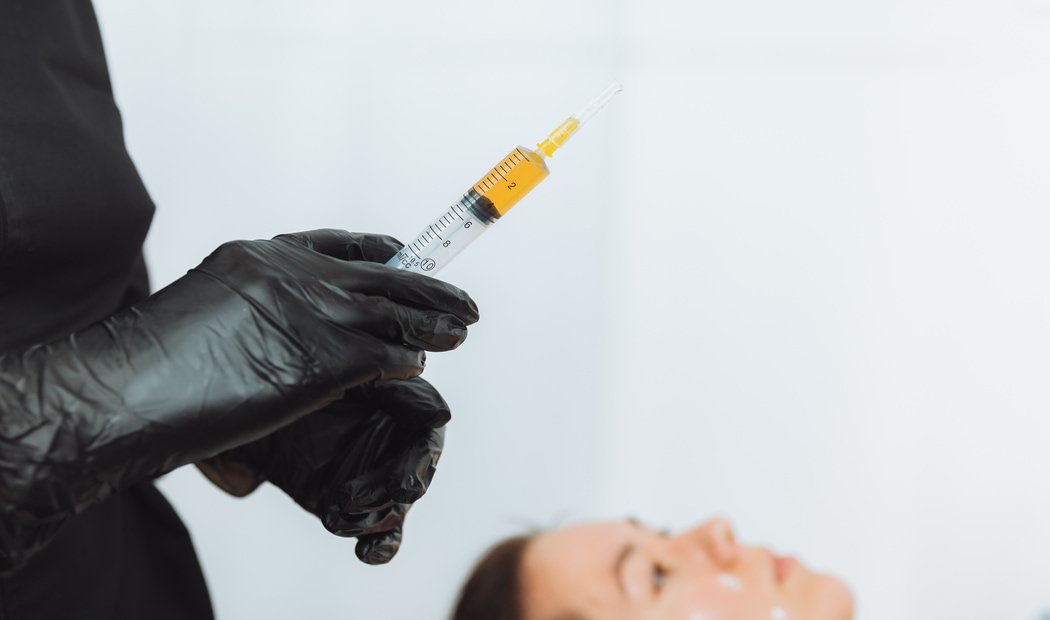 Anesthesia is not needed for this type of procedure, but still, a topical numbing cream may be applied for individuals with sensitive skin. Approximately 32 injections are used during the treatment cycles to get the desired pain-relief effect.
Essential Safety Information
Before starting any type of treatment, it is crucial to read more useful information about the procedure and understand all possible risks that may follow the injection session. In this way, it will be easier to create the aftercare routine and know for sure when a medical specialist should be contacted.
Does Botox for Migraines Help Wrinkles?
It doesn't matter what is the initial purpose of using Botox treatment: eliminating age-related wrinkles, curing cervical dystonia, or dealing with continuous migraines. The medication for all the procedures remains the same; the main difference here is the dosage (obviously, skin lines reduction will require fewer units of botulinum toxins than chronic headache prevention).
Please remember: A doctor must be a licensed, board-certified, well-trained specialist with a perfect knowledge of facial and body anatomy. Otherwise, it may be dangerous and even lead to life-threatening conditions. 
Possible Post-Treatment Side Effects
As with all treatments, Botox injections for migraines may be followed by certain adverse reactions. Even though this procedure is believed to be among the safest ones, still some side effects of Botox may be the reason for mild discomfort and other unpleasant symptoms. So, what can patients expect after the injection session?
Mild irritation, swelling, or redness in the target area;
Slight bruising in the needle puncture spots;
Headache, nausea, vomiting;
Temporal blurred vision;
General weakness.
2-3 days are usually enough for all of them to fade away completely; if more severe adverse reactions develop, it is recommended to seek medical help.
The worst problem patients may experience after the injection session is the spreading of the botulinum toxin to the closest areas, followed by numbing of the muscles that weren't intended o be blocked. Unfortunately, it's impossible to control this issue, so a doctor should be extremely careful during product administration.
Limitations for the Procedure
Overall, botulinum toxins are safe and can be used for patients with practically any need; however, some limitations should be considered in order to guarantee safety and minimal adverse reactions after the treatment. These categories of patients cannot use Botox to treat migraine:
People with increased sensitivity to botulinum toxin;
Individuals with irritations in the target area;
Patients with a generally poor health condition (flu-like symptoms, weakness, fever, and other symptoms);
Those who suffer from autoimmune diseases.
Pregnant and breastfeeding women should talk with a specialist to discuss individual treatment plans because it's unknown how Botox can affect the fetus or a future mother-to-be.
The Final Word: About Botox for Migraines
Botox for migraine is an effective treatment method for individuals who don't find any oral medication helpful anymore. It works just like botulinum toxins for wrinkles reduction – blocks the nerve endings in the muscles and thus stops their contractions. In order to be sure the product will be helpful for one's needs, it is better to talk to a medical professional; in this way, it will be easier to calculate the required amount of Botox units, the number of procedures, and other important nuances. That's all for today; thank you for tuning in!